OBSESSIVE - NEO GOLDES DISFRAZ
OBSESSIVE - NEO GOLDES DISFRAZ
€52,79 – €56,45 VAT included
€52,79 – €56,45 VAT included
Important: take advantage of free shipping with orders over € 40. Any charges for shipments outside the European Community, if due, will be applied by the couriers to the final customer upon entry of the shipment in the country of destination.
Delivery times can vary from 24 hours to 6 days from the moment the goods leave our warehouse and depending on the destination of the product.
Description
Oggi soddisferemo le tue fantasie con un accento affascinante. Saltando nel costume Neo Goldes, ti garantiamo un girovita fenomenale e allettanti orecchie da coniglio d'oro. Nello specchio, ammirerai quanto ti sembri allettante il reggiseno morbido e gli shorts sexy. Un costume così dolce unito alla tua sensuale femminilità ti garantirà un vero e proprio effetto 'wow'!
Conosci i suoi dettagli:
Costume effetto perla: reggiseno, shorts, cerchietto e girocollo
Cerchietto dorato con orecchie da coniglio
Girocollo elastico con fiocco: si adatterà perfettamente
Spalline regolabili: comfort da indossare
Le coppe triangolari assicurano un bell'aspetto del busto
Un pompon decorativo sul retro
A vita alta
I bottoni decorano il davanti e i lati dei pantaloncini
Materiale leggero (82% poliammide 18% elastan; orecchie: 60% PVC, 20% poliestere, 15% plastica PP, 5% metallo)
S / M
Obsessive significa ispirazione per le donne. Eleganza, sensualità, amore per il ricamo… I migliori tessuti ei migliori ricami per creare pezzi unici di lingerie. Anni di lavoro per unire il miglior rapporto qualità – premio.
Leader mondiali nella biancheria intima! Nessuno fa di meglio!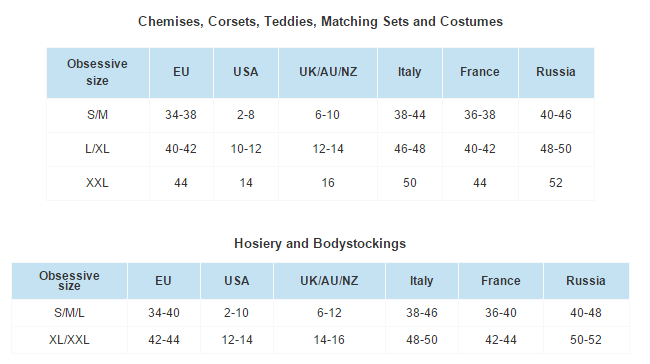 The voucher can be used for your next purchases on this site