OBSESSIVE - ELISETTA TEDDY S / M
OBSESSIVE - ELISETTA TEDDY S / M
€49,40 VAT included
€49,40 VAT included
Important: take advantage of free shipping with orders over € 40. Any charges for shipments outside the European Community, if due, will be applied by the couriers to the final customer upon entry of the shipment in the country of destination.
Delivery times can vary from 24 hours to 6 days from the moment the goods leave our warehouse and depending on the destination of the product.
Description
Do you dream of French chic and elegant design? Then indulge in a little (and maybe even a little more) of floral lace and inviting glitter. Do you already know what we have for you? You will feel divine in the new teddy Elisetta and you will find that you always look fantastic in classic black! A moment and it will be yours ...
Find out more details:
Sexy teddy bear in an (almost) classic cut: perfectly exposes feminine shapes!
Lace with a beautiful floral pattern - fits the body perfectly
Teddy is fastened at the waist with adjustable straps
Sheer lace adorns the bust, shoulders and back
Sexy cut on the back
Charming, slightly sparkling and elastic material? perfect fit (90% polyamide, 10% elastane)
Size: S / M
Obsessive means inspiration for women. Elegance, sensuality, love for embroidery… The best fabrics and the best embroideries to create unique lingerie pieces. Years of work to combine the best value for money.
World leaders in underwear! Nobody does better!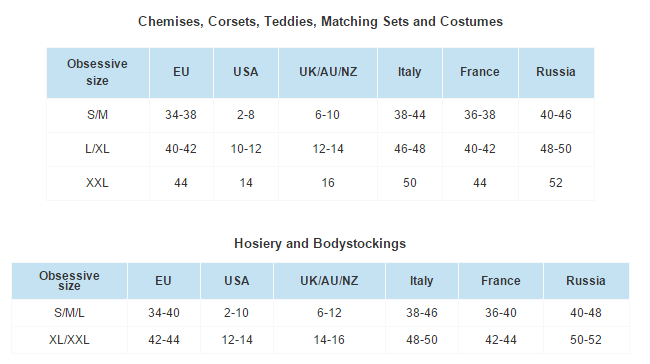 The voucher can be used for your next purchases on this site