OBSESSIVE – JOYLACE SET DOS PIEZAS S/M
OBSESSIVE – JOYLACE SET DOS PIEZAS S/M
€35,28 VAT included
€35,28 VAT included
Important: take advantage of free shipping with orders over € 40. Any charges for shipments outside the European Community, if due, will be applied by the couriers to the final customer upon entry of the shipment in the country of destination.
Delivery times can vary from 24 hours to 6 days from the moment the goods leave our warehouse and depending on the destination of the product.
Description
Pizzo delicato e semitrasparente, perle decorative e cinturini creati per mostrare la tua bellezza. Questo set è l'ideale! Sei nel posto giusto. Nel set di Joylace stupirai il tuo partner con grazia e sex appeal. Fidati di noi…
Altre emozioni qui:
Chiusura regolabile: puoi adattarla al tuo corpo
Cinturino al collo – comodo da indossare
Belle perle – decorazione in stile regina!
Materiale elastico con soluzione Multistretch
Design bello e resistente (90% poliammide, 10% elastan)
Taglia: S / M
Obsessive significa ispirazione per le donne. Eleganza, sensualità, amore per il ricamo … I migliori tessuti ei migliori ricami per creare capi di lingerie unici. Anni di lavoro per unire il miglior rapporto qualità – premio.
Leader mondiali in lingerie! Nessuno fa meglio!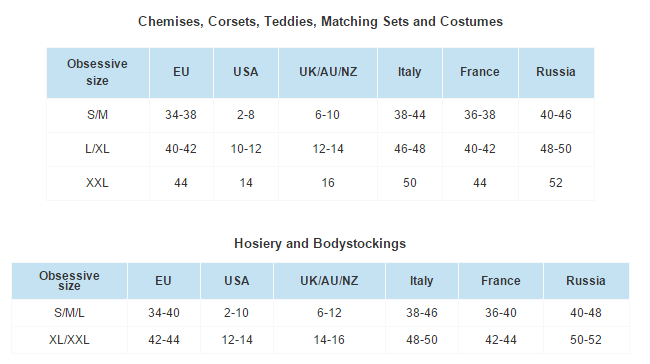 The voucher can be used for your next purchases on this site