OBSESSIVE – REDIOSA MEDIAS
OBSESSIVE – REDIOSA MEDIAS
€15,12 – €19,97 VAT included
€15,12 – €19,97 VAT included
Important: take advantage of free shipping with orders over € 40. Any charges for shipments outside the European Community, if due, will be applied by the couriers to the final customer upon entry of the shipment in the country of destination.
Delivery times can vary from 24 hours to 6 days from the moment the goods leave our warehouse and depending on the destination of the product.
Description
In Rediosa ti lascerai trasportare dall'amore! Abbiamo preparato per voi calze color carne con pizzo non convenzionale. Vi promettiamo che sarà una notte emozionante! Entrambi non ne avrete mai abbastanza di questa nuova lingerie sexy che porterà il vostro amore al massimo livello di piacere.
Scopri i dettagli:
Calze Rediosa ? design chic e unico
Il pizzo si adatta al corpo
Spacchi decorati con cinturini sul davanti: catturano l'attenzione
Stile comodo e classico
Pizzo con motivo floreale ? incredibilmente piacevole sulla pelle
Le calze non sono autoportanti
Materiale piacevole al tatto ed elastico (90% poliammide, 10% elastan)
Taglia: S/M
¡Ossessive significa inspiración en la mujer! Elegancia, sensualidad, amor a la costura….significa mucho para la mujer, pocos son los adjetivos que pueden calificar a Obsessive, donde una labor de años han conseguido unir la mejor relación calidad-precio.
¡Líderes mundiales en lencería, nadie lo hace mejor!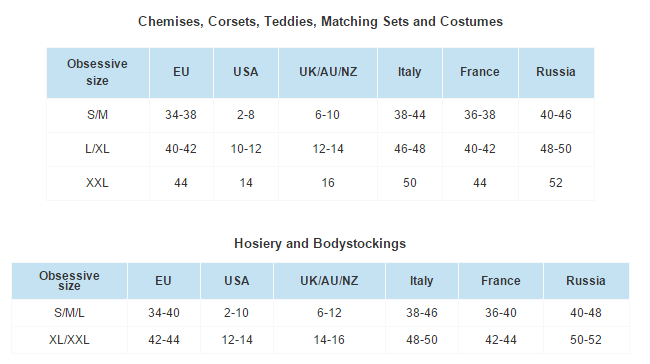 The voucher can be used for your next purchases on this site