OBSESSIVE – ELISETTA TEDDY S/M
OBSESSIVE – ELISETTA TEDDY S/M
€49,40 VAT included
€49,40 VAT included
Important: take advantage of free shipping with orders over € 40. Any charges for shipments outside the European Community, if due, will be applied by the couriers to the final customer upon entry of the shipment in the country of destination.
Delivery times can vary from 24 hours to 6 days from the moment the goods leave our warehouse and depending on the destination of the product.
Description
Sogni lo chic francese e un design elegante? Allora concediti un po' (e forse anche un po' di più) di pizzo floreale e glitter invitanti. Sai già cosa abbiamo per te? Ti sentirai divina nel nuovo teddy Elisetta e scoprirai che sei sempre fantastica nel classico nero! Un attimo e sarà tuo…
Scopri maggiori dettagli:
Orsacchiotto sexy in un taglio (quasi) classico: espone perfettamente le forme femminili!
Pizzo con un bellissimo motivo floreale: si adatta perfettamente al corpo
Teddy è fissato in vita con cinghie regolabili
Il pizzo trasparente adorna il seno, le spalle e la schiena
Taglio sexy sulla schiena
Materiale affascinante, leggermente scintillante ed elastico ? vestibilità perfetta (90% poliammide, 10% elastan)
Taglia: S/M
Obsessive significa ispirazione per le donne. Eleganza, sensualità, amore per il ricamo… I migliori tessuti ei migliori ricami per creare pezzi unici di lingerie. Anni di lavoro per unire il miglior rapporto qualità – premio.
Leader mondiali nella biancheria intima! Nessuno fa di meglio!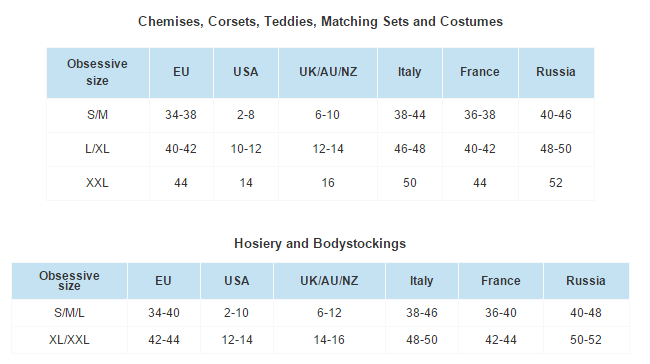 The voucher can be used for your next purchases on this site