OBSESSIVE - YASSMYNE PEIGNOIR S / M
OBSESSIVE - YASSMYNE PEIGNOIR S / M
€59,15 VAT included
€59,15 VAT included
Important: take advantage of free shipping with orders over € 40. Any charges for shipments outside the European Community, if due, will be applied by the couriers to the final customer upon entry of the shipment in the country of destination.
Delivery times can vary from 24 hours to 6 days from the moment the goods leave our warehouse and depending on the destination of the product.
Description
Stai sognando una nuova veste che si abbini magnificamente alla tua lingerie preferita? Appositamente per te, abbiamo creato un modello unico e beato realizzato con la combinazione di nero fenomenale e affascinante blu indaco;) Pizzo elegante, taglio classico e materiale traslucido. Vi presentiamo la splendida Yassmyne!
Scopri gli allettanti dettagli:
Bella vestaglia di pizzo
Pizzo blu con motivo floreale ? un po' di fascino femminile
Materiale traslucido
Rilegatura in raso: un punto vita magnificamente enfatizzato
Bordi rifiniti con pizzo "ciglia" – aggiunge eleganza
Materiali delicati sulla pelle (90% poliammide, 10% elastan)
Taglia: S/M
Obsessive significa ispirazione per le donne. Eleganza, sensualità, amore per il ricamo… I migliori tessuti ei migliori ricami per creare pezzi unici di lingerie. Anni di lavoro per unire il miglior rapporto qualità – premio.
Leader mondiali nella biancheria intima! Nessuno fa di meglio!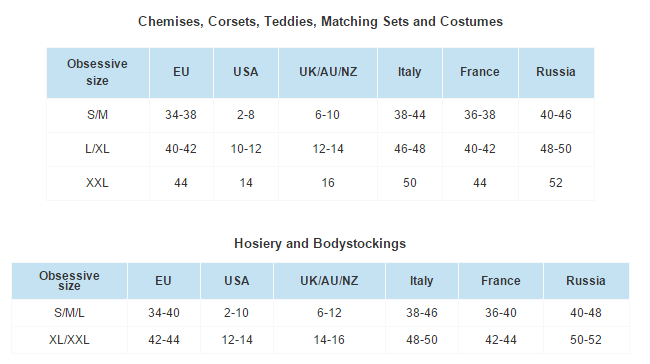 The voucher can be used for your next purchases on this site