OBSESSIVE - NUDELIA TEDDY S / M
OBSESSIVE - NUDELIA TEDDY S / M
€32,26 VAT included
€32,26 VAT included
Important: take advantage of free shipping with orders over € 40. Any charges for shipments outside the European Community, if due, will be applied by the couriers to the final customer upon entry of the shipment in the country of destination.
Delivery times can vary from 24 hours to 6 days from the moment the goods leave our warehouse and depending on the destination of the product.
Description
Sensuale e chic. Sarai così durante una serata romantica con la persona amata. Preparati non solo per bei momenti, ma anche per esperienze piccanti. Il favoloso orsacchiotto Nudelia ti farà brillare con il tuo vero sex appeal!
Maggiori dettagli qui:
Orsacchiotto unico nel colore sexy e nudo
Spalline regolabili si incontrano sul retro con cinghie elastiche
Intriganti ritagli sopra il seno – busto enfatizzato
Strisce nere adornano l'orsacchiotto e visivamente snelliscono il corpo
Elegante filo dorato cucito nel tessuto
Chiusura regolabile
Materiale delicato ed elastico (90% poliammide, 10% elastan)
Size: S / M
Obsessive significa ispirazione per le donne. Eleganza, sensualità, amore per il ricamo … I migliori tessuti ei migliori ricami per creare capi di lingerie unici. Anni di lavoro per unire il miglior rapporto qualità – premio.
Leader mondiali in lingerie! Nessuno fa meglio!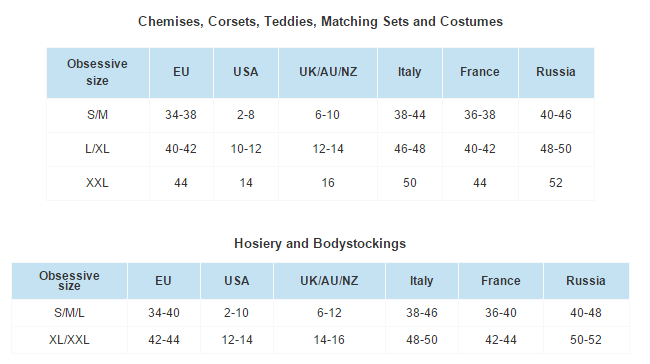 The voucher can be used for your next purchases on this site